5 Best Live Music Restaurants in Klang Valley 2022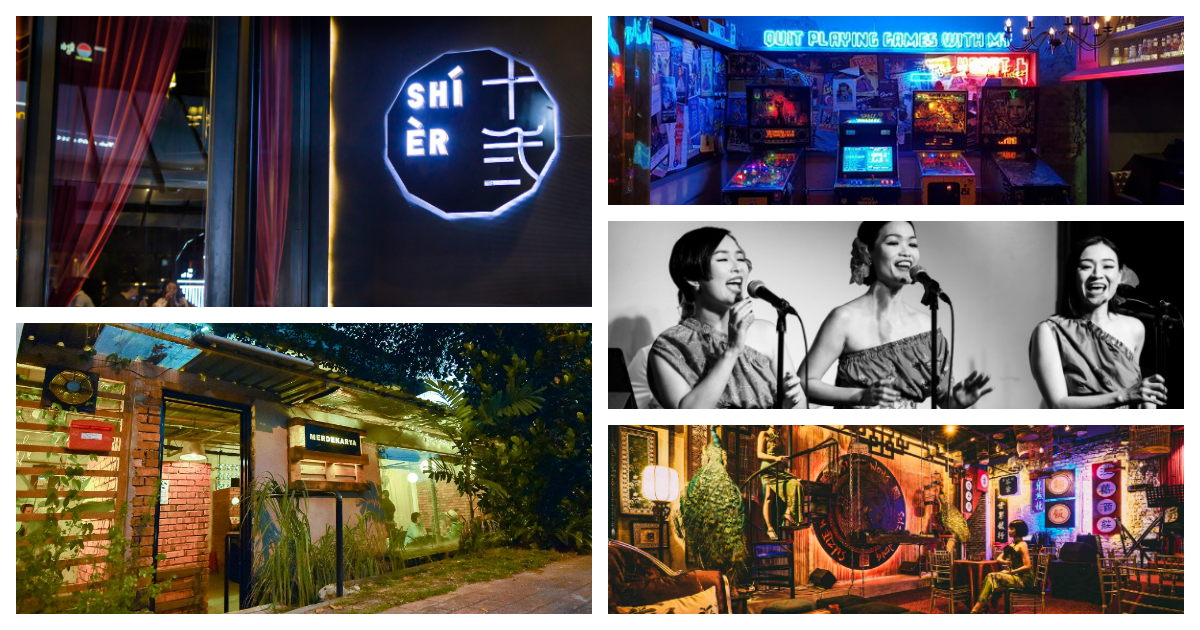 Nowadays music has become a necessity in life. When you are stressed up with work, some relaxing bossa nova music will calm your mind down. While you are in anger, heavy metal music will help you to release your energy. Sentimental music is the best embellishment for a romantic and intimate night. Looking for places to hang out with friends while enjoying music? Here are some references for you.
The Bee, Publika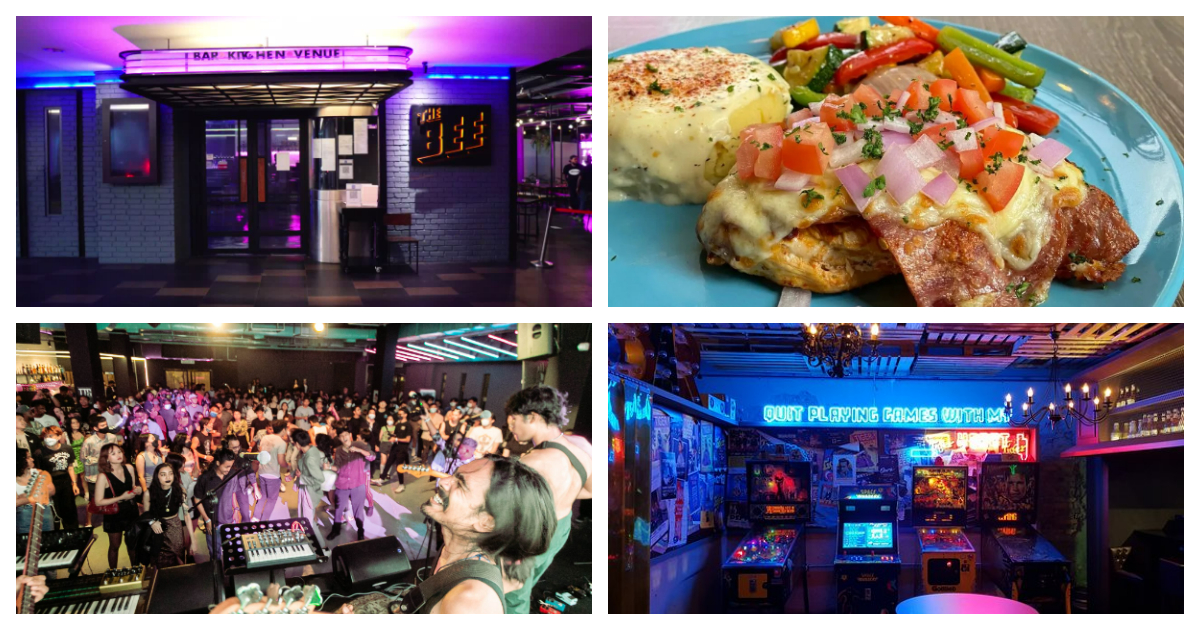 The Bee is located in Publika, offering live music shows. After enjoying your shopping session in Publika Shopping Gallery, The Bee will be the best choice for you to sit down and enjoy the music. Being a very happening music restaurant, The Bee regularly holds live music shows. You can check their event calendar for the schedule of live music shows.
While enjoying the show, you can also have a nice delicious main course and snacks. There is a wide range of beverages available, from premium brand drinking water to various types of liquor to fulfill your desire for alcohol. There is good news for ladies, every Thursday is marked as ladies night, all ladies can enjoy a free sip of cocktails. To know more on the upcoming music events, promotion and menu, you can always visit their website. Reservation is appreciated.
Restaurant Details
Website
https://www.thebee.com.my/
Contact
+601 7565 4233
Address
Lot 36B, Level G2, Block C, Publika,
Jalan Dutamas 1, Solaris Dutamas,
50480 Kuala Lumpur.,
Business Hours
Daily, 3.00pm – 12.00am, close every Tuesday.
Pros
Wide range of beverages menu for alcoholic and non-alcoholic beverages.
Consumer friendly prices.
Cons
Business hours are only until 12.00am.
Not a suitable place to have great conversation.
Bobo KL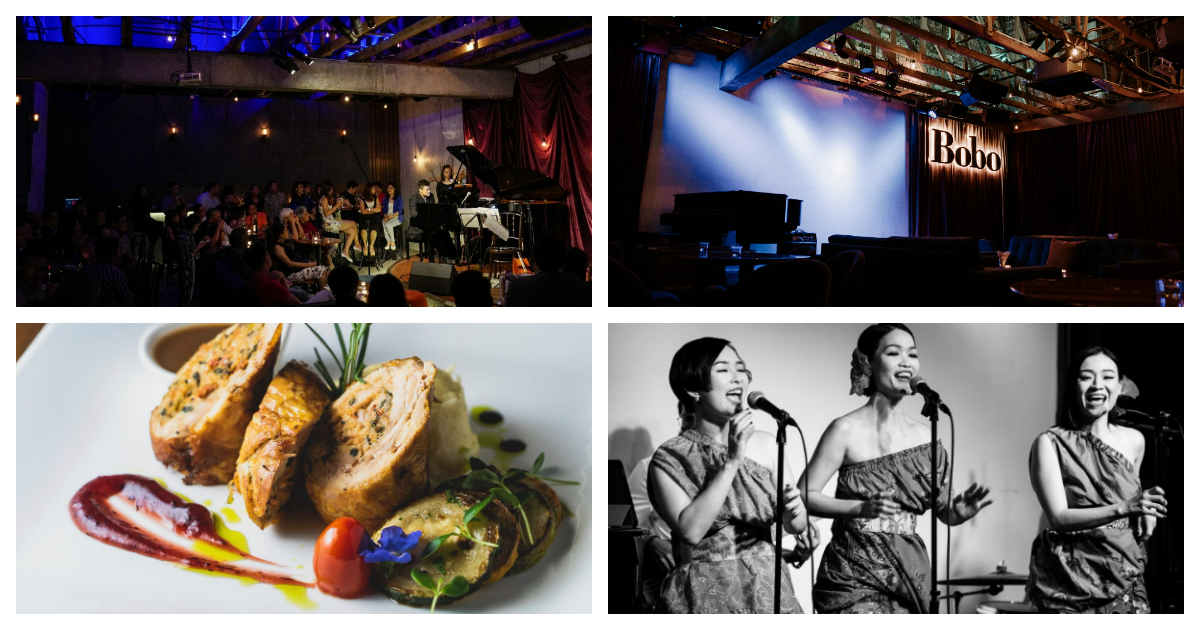 If you are interested in musical performance and musical theater, Bobo must be your first choice. Bobo KL is the place where the best Malaysia's talents perform and share their music with you. You can enjoy a wide range of music genres here such as R&B, Jazz, Pop, Indigenous, and vintage. Besides musical performance, Bobo KL will also hold an intimate drama production, talk show, comedy and dance performance. In this tiny space, you can enjoy various types of performance art.
In Bobo KL, performance is the main attraction, they only serve snacks and beverages instead of main meals. Limited non-alcoholic beverages are available, but there is a good selection of wines and liquors for you to enjoy. Entrance fee is needed for every show. Prices varied from RM 80.00 to RM 250.00. Please do visit their website to find out more on the upcoming musical shows. Tickets must be bought in advance through CloudTix website.
Restaurant Details
Pros
A good variety of musical shows.
A place to share interests in music.
Cons
Tickets needed besides ordering food and drinks.
Price is relatively high.
Merdekarya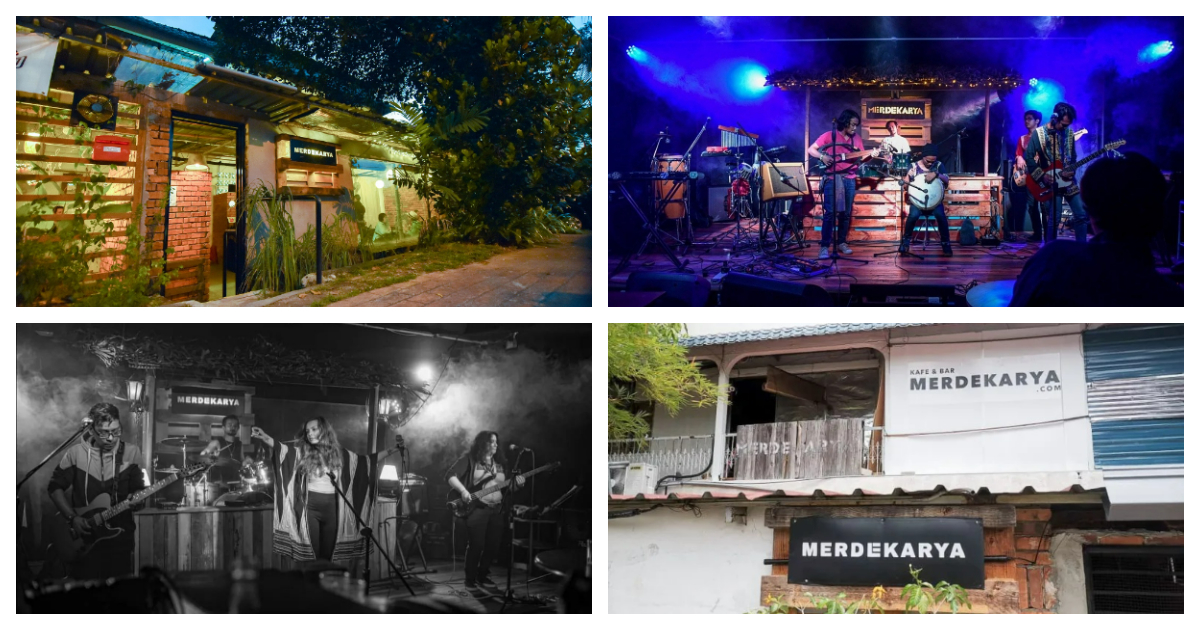 Merdekarya is a space for local talents to share their music. You may enjoy their performance either in the bar or online. You may need to buy yourself a ticket to enjoy some of the performances but most of the performances are free but expecting tips. If you are a fan of local musicians, Merdekarya is a must visit place. Merdekarya introduce themselves as a place for you to discover grassroots music. They share a variety of music genres for instance Malaysian folk, Indian rock, folk jazz or even blues.
Here they served Malaysia local cuisine such as traditional sarawakian rice wine, curries with breads, Indomie goreng etc. You can support Merdekarya by signing up as a member or giving donations for the venue. Merdekarya is a place where you can discover wonders of local Malaysian music. Perhaps visiting Bar B and the Balcony Bar is free at 7pm, tickets are only applicable from 8pm onwards for certain performances.
Restaurant Details
Website
https://www.merdekarya.com/
(Reservation will be hold until 8.30pm only)
Contact
+601 8661 4553
Address
352 First Floor, Jalan 5/57, Bukit Gasing, 46000 Petaling Jaya, Selangor.
Business Hours
Tuesday – Friday, 7.00pm – 11.30pm.
Close every Sunday and Monday.
Pros
Local music sharing.
Price is relatively low, some you can give tips based on your preference.
You can either enjoy the performance live or online.
Cons
There aren't many choices on the menu.
Suzie Wong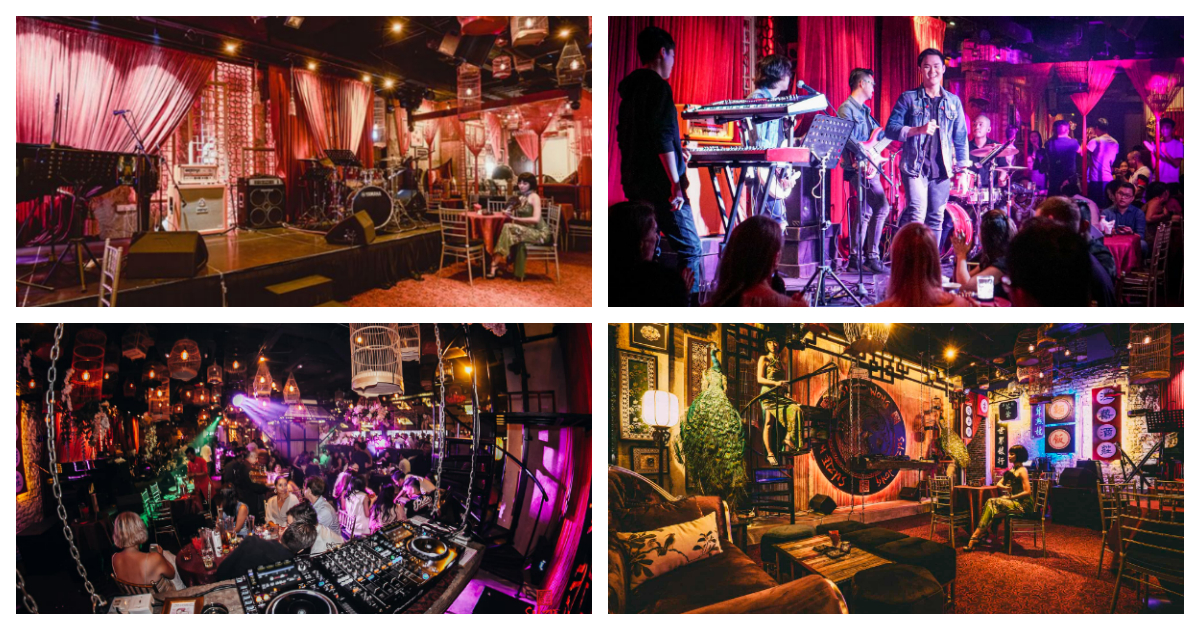 Suzie Wong is a piece of land where east and west collides in a grandeur and seductive pleasure. They serve delicious modern Chinese dishes that features a tantalizing line-up of her signature roasts, truffle-infused dumplings, scrumptious wontons and don't forget to order from her list of tempting cocktails. There are some special designed cocktails, inspired by delicious local Chinese desserts such as oriental herbal tea, lai cheek ang and cendol.
Their price for cocktail is RM58.00 onwards. While they served modern Chinese main dishes and also snacks. They served dinner from 6.00pm till late while their live performance started from 7.30pm till late. Reservation for table is needed. This bar also support private event, corporate events and also can hold a wedding dinner up to 120 guests. Gentleman are required to follow their attire code, long pants, collared shirt and closed shoes.
Restaurant Details
Website
https://www.suziewong.asia/
Tickets
Not Applicable
Contact
+601 7226 6480
Address
Wisma Lim Foo Yoong, 86, Jalan Raja Chulan, Kuala Lumpur, 50250 Kuala Lumpur, Wilayah Persekutuan Kuala Lumpur.
Business Hours
Thursday – Saturday; Dinner service 6.00pm till 1.00am;
Live performance 7.30pm – 1.00am.
Pros
Fancy modern musical performance.
Nice Chinese cuisine served.
Special crafted cocktails.
Cons
Attire code applicable on men.
Only open 3 days in a week.
Shi Er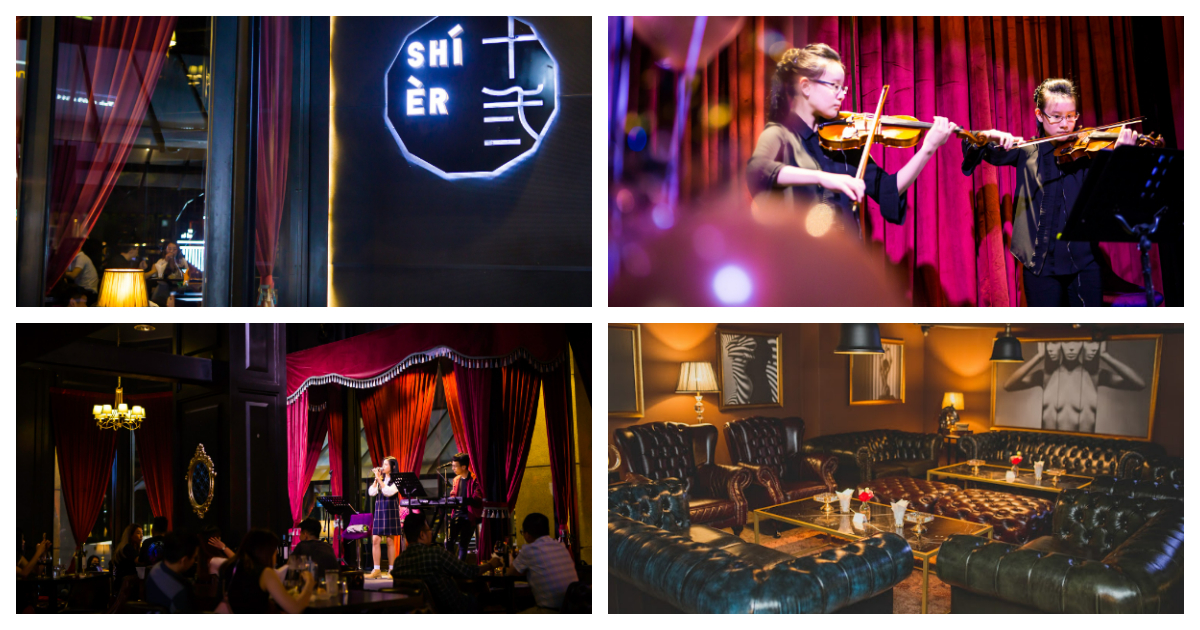 This will be your choice if you are looking for a place to chill with a live band playing jazz and blues music. This bar is located in Mont Kiara, a perfect spot for urban chic to enjoy their time after a busy day at work. In shi er, live performance is ongoing everyday starting 9.30pm onwards. After a busy day, you may love to stop by to enjoy a delicate dinner and a sip of alcohol.
Shi Er serves appetizers, pasta, pizza and a good variety of main courses. As for liquor, they provide a wide range of red wine, white wine, whisky and beers. In addition, you can enjoy cigars in the bar. Shi Er invited talented local singers to share their music in a live band performance. They will have different singers everyday. This will be a good choice for your anniversary celebration, birthday party, and corporate events. Reservation is preferred.
Restaurant Details
Pros
Open daily.
Everyday will have different live band performance.
Convenient location.
Cons
Most live performances are on Chinese songs.
Chilling with music and a sip of favourite liquor is one of the best ways to wash away the tiredness after a busy working day. Nice music performance with delicious food and delicate drink are the perfect combination for a hang out or gathering. Music always brings people together while a bit of alcohol fosters the energy flow.
After enjoying your night with alcoholic drinks, please never drive by yourself. Driving after drinking is not just risking your life but also other road users. So please do not drive after having alcohol. Life is precious.