5 High Rating BL Thai Drama Series You Must Watch 2022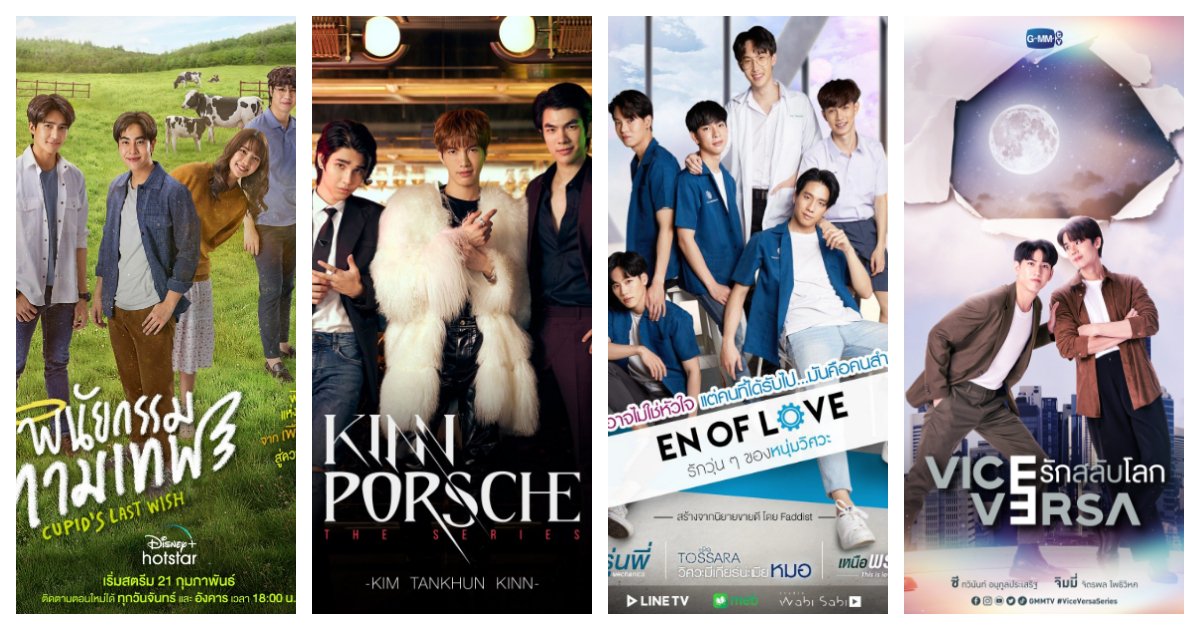 Looking for drama series to spend your weekends with? Maybe you can try on some BL or known as boys love drama series. It can be extremely diverse from the get-go with many different genres and settings offering you relationships from super sweet romances to intensely sexual content. There are a few Asian countries that produce high rating BL drama such as Thailand, Taiwan, Korea, Philippine, and China. Today we are going to explore a list of high rated Thai BL dramas which are releasing this year.
Cupid's Last Wish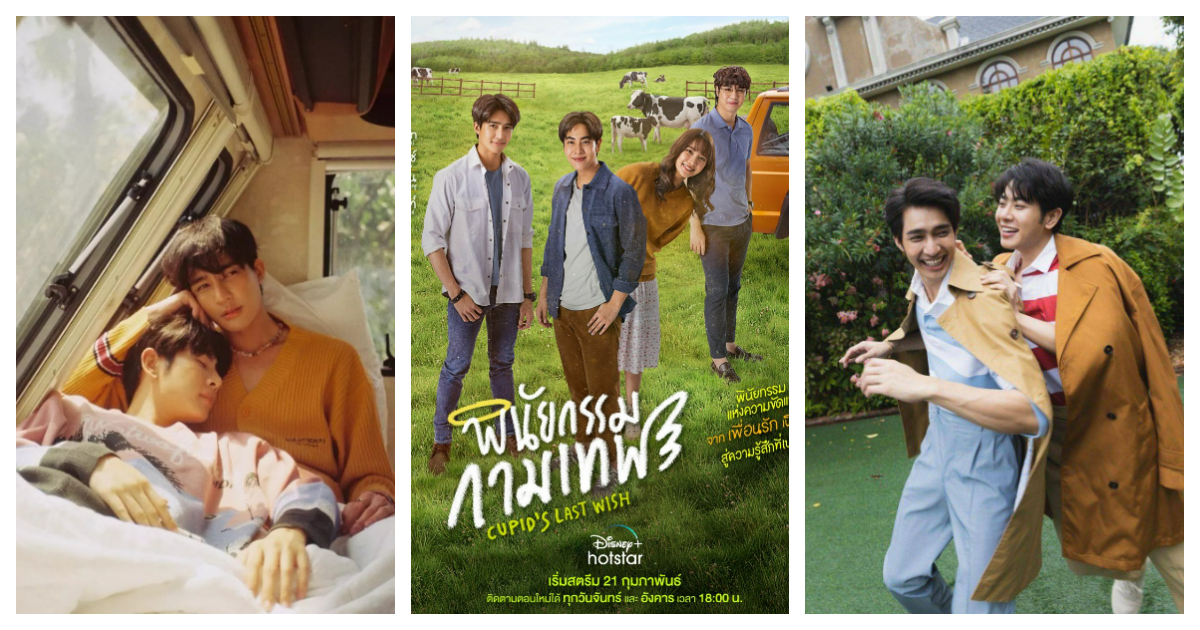 Cupid's Last Wish is a BL drama which has a supernatural plot. It tells the story of Korn and Win, who are childhood best friends. Conflicts arise when Win's father includes Korn in his will, granting him part of the family's farm's stocks. Misunderstandings follow, breaking up their 22 years of friendship.
This story plot changes when Win gets into a car accident with his sister, Lin. They wake up, finding out the exchange of their souls. To return to his original body, Win sets off on a road trip to collect holy water from four temples across the country within seven days. Korn has accompanied him throughout the adventure.
The drama plots the journey of relationship changes between Korn and Win, from friend to enemy then end up as lovers. This drama is casted by Earth Pirapat Watthanasetsiri, Mix Sahaphap Wongratch and Jan Ployshompoo Supsap.
Details of Cupid's Last Wish
| | |
| --- | --- |
| Episodes: | 10 episodes |
| Genre: | Adventure, romance, drama, supernatural |
| Cast: | Earth Pirapat Watthanasetsiri, Mix Sahaphap Wongratch, Jan Ployshompoo Supasap, White Nawat Phumphothingam |
| Watch online at: | Disney+ Hotstar (TH), YouTube, GMMTV, Bilibili tv |
| Trailer: | https://www.youtube.com/watch?v=_-M8vcelnQM |
KinnPorsche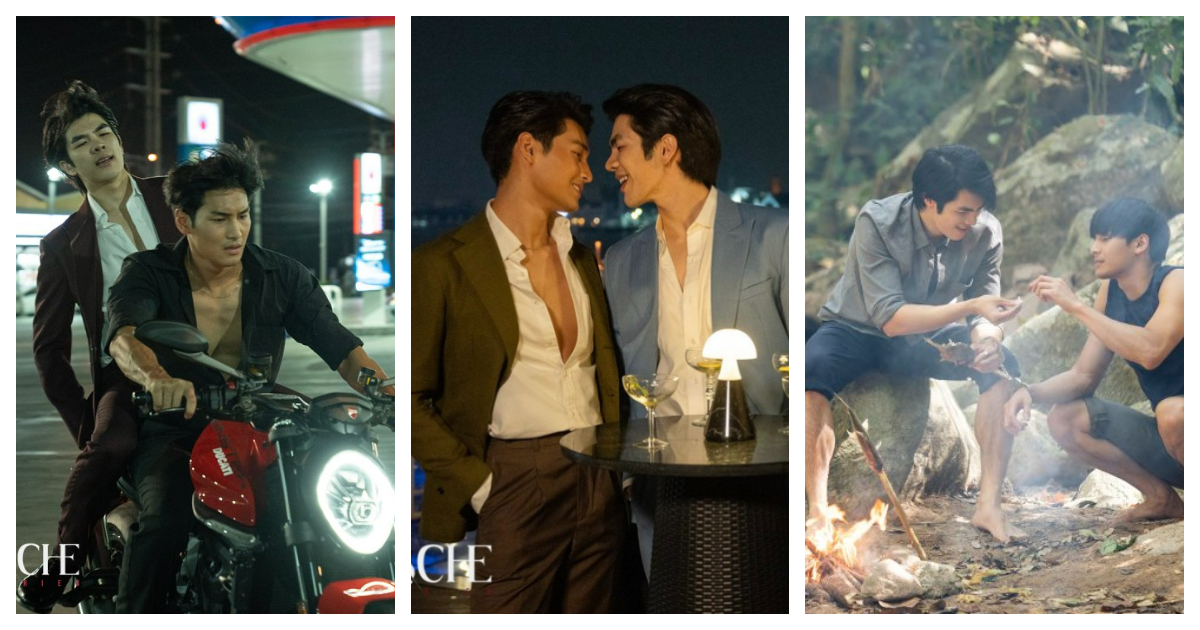 Directed by Kongkiat Komesiri (Khom), Krisda Witthayakhajorndet (Pond), and Banchorn Vorasataree (Pepsi), KinnPorsche is a highly rated BL Thai drama, 8.9 on IMDb and nearly 10 on iQIYI. It is presented in action movie style with a criminal storyline. The storyline begins when the second son of a mafia boss, Kinn Theerapanyakul, flees from an enemy when he meets Porsche, an enterprising young bartender. A mutual agreement was set, where Porsche helped to protect Kinn from his attackers for a price. Chemistry between Kinn and Porsche starts when Porsche becomes Kinn's bodyguard. Mile Phakphum Romsaithong is playing the role of Kinn Theerapanyakul while Apo Nattawin Wattanagitiphat plays the role of Porsche or known as Pachara Kittisawasd.
Details of KinnPorsche
| | |
| --- | --- |
| Episodes: | 14 episodes |
| Genre: | Action, romance, crime, drama |
| Cast: | Mile Phakphum Romsaithong, Apo Nattawin Wattanagitiphat, Tong Thanayut Thakoonauttaya, Bible Wichapas Sumettikul, Build Jakapan Puttha, Perth Stewart Nakhuntanagarn Screaigh |
| Watch online at: | iQiYi |
| Trailer: | https://www.youtube.com/watch?v=dZvpNreGVOc |
Love Mechanics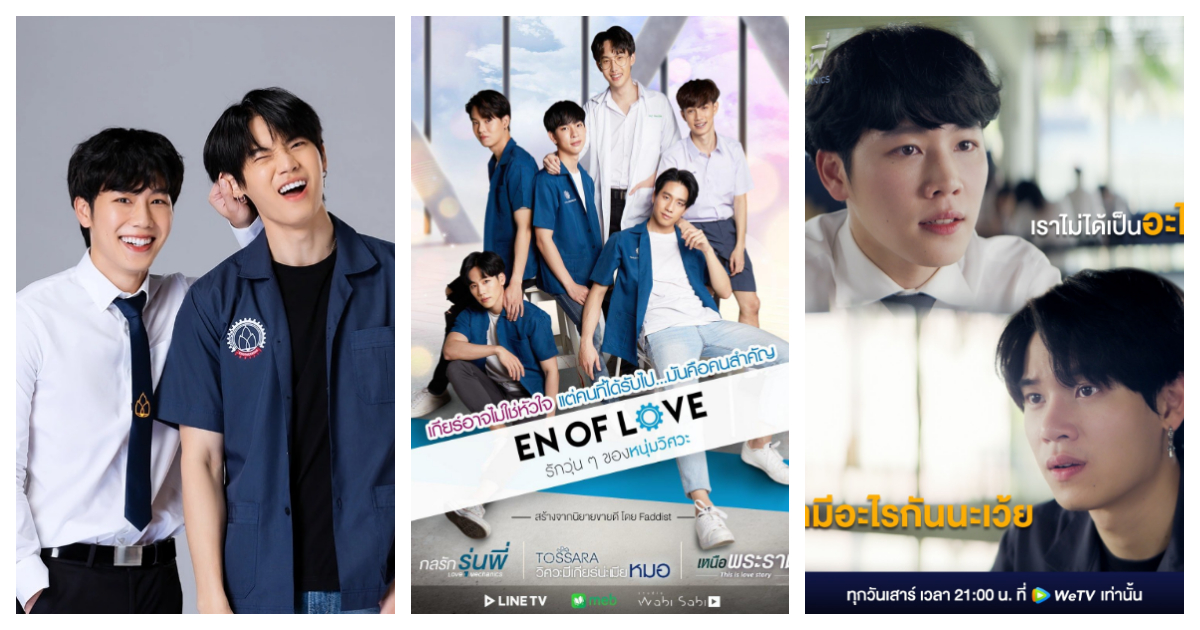 Love Mechanics is adapted from the novel, "Love Mechanics" by Faddist. It is a romance story of Mark, as an engineering major, he is completely aware of the fact that to make his dreams come true he is going to have to work hard.
As to make his romance come true, Mark decides to confess his one-sided love. Approaching his long-time crush, Bar Sarawut with a heart-felt confession, Mark is devastated when he is turn down. Heartbroken Mark runs into Vee in a night club and chemistry happens between them.
But when their relationship builds up, Mark finds out Vee already has a girlfriend. It is all about process how Mark pursue his true love. War Wanarat Ratsaneerat plays the role of Mark and Yin Anan Wong plays the role of Vee.
Details of Love Mechanics
| | |
| --- | --- |
| Episodes: | 10 episodes |
| Genre: | Romance, youth, drama |
| Cast: | Yin Anan Wong, War Wanarat Ratsameerat, Perth Veerinsara Tangkitsuvanich,Prom Ratchapat Worrasarn, Got Kanidsorn Laiwrakoran, Jeff Nathadej Pititranun |
| Watch online at: | WeTV, Apple TV |
| Trailer: | https://www.youtube.com/watch?v=M7RqVE_QSTI |
You're My Sky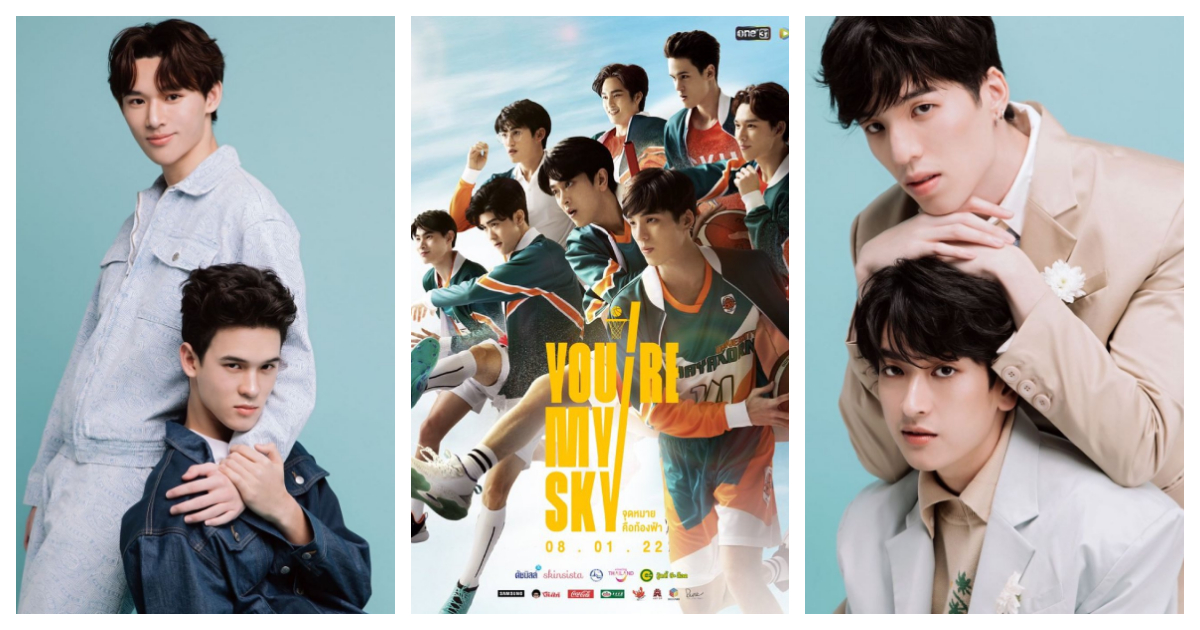 You're My Sky is a drama about romance that happens in college. Thorn is a first year college student who loves to play basketball and aims to become a professional basketball player. In the journey of pursuing dream, he reunites with Tupfah.
Thorn has a crush with Tupfah but in uncertainty to confess. Through spending time together, their bond is getting stronger. Let's keep it a suspense whether it will turn into a romantic relationship in the end. Thorn and Tupfah are not the only pair who develop romantic relationships in this drama.
Aii is a support cast who will develop his own romance in this drama as well. In this drama, Tae Chayapat Kongsub is playing the role of Tupfah while Suar Kritsanaphong Sripattiyanon and Jump Kananat Yansukon are playing the role of Tupfah and Aii respectively. This drama is all about a sweet young romance happening in college.
Details of You're My Sky
| | |
| --- | --- |
| Episodes: | 12 episodes |
| Genre: | Romance, school, youth, sports |
| Cast: | Tae Chayapat Kongsub, Suar Kritsanaphong Sripattiyanon, Jump Kananat Yansukon, Boom Thanut Jiraratchakit |
| Watch online at: | WeTV, Viki, YouTube |
| Trailer: | https://www.youtube.com/watch?v=nJJqVtEFZEE |
Vice Versa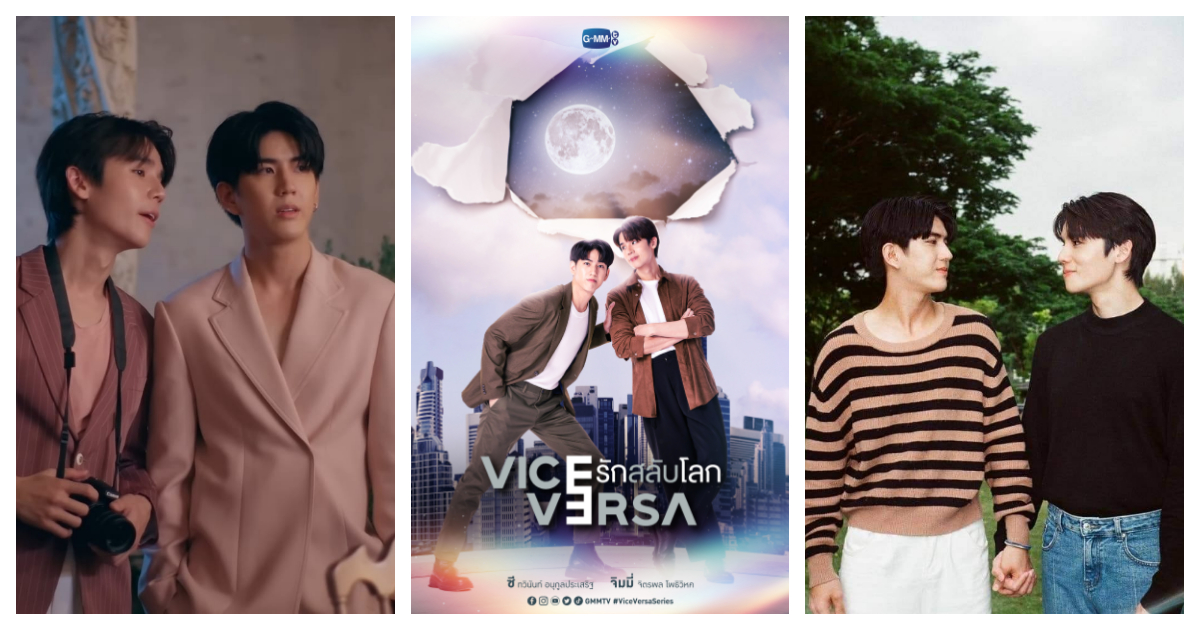 Vice versa is a BL drama with a fantasy element and it's all about the romance Talay encounters. Talay is a talented new graduate and receives a confirmation letter for his new job as a colorist. Unfortunately, Talay drowns when he is on a beach trip. Talay wakes up in Tess's body who is a troublesome spoiled rich kid.
During hospital stay, Talay meets a nurse from his universe, who has transmigrated there as well. She explains the existence of the two parallel universes and stresses the need to find the "Portkey". She also reiterates that there might be some deep connection between Talay and the key.
As Talay reaches out to Tess's friends, he comes across a primary school friend, Tun. On meeting Tun, Talay notices some oddities and realizes that the original Tun's soul has transmigrated as well. Talay confesses to the new guy that he came from the other universe as well.
As they both work together to find their port keys, their bond strengthens but what will happen when they return to their own universe? Will they meet again and recognize each other? Let's keep it a suspense for you to find out for yourself.
This drama is performed by young actors. Sea Tawinan Anukoolprasert plays the role of Talay and Tess while Jimmy Jitaraphol Potiwihok Plays the role of Puen and Tun. This is a rare BL drama which plots fantasy and keeps you suspense throughout the drama.
Details of Vice Versa
| | |
| --- | --- |
| Episodes: | 12 episodes |
| Genre: | Romance, youth, drama, fantasy |
| Cast: | Sea Tawinan Anukoolprasert, Jimmy Jitaraphol Potiwihok, Neo Trai Nimtawat, Aou Thanaboon Kiatniran, Gun Atthaphan Phunsawat and Godji Tachakorn Boonlupyanun as guest roles. |
| Watch online at: | YouTube (GMMTV) |
| Trailer: | https://www.youtube.com/watch?v=RbpBsChDTnk |
Get your popcorn ready for your drama watching weekends. A relaxing and romantic drama will never turn your weekends down. Here are a few dramas that won't let you down especially if you are interested in BL drama.