Sweet Delights in Petaling Jaya: 5 New Dessert Cafes You Can't Miss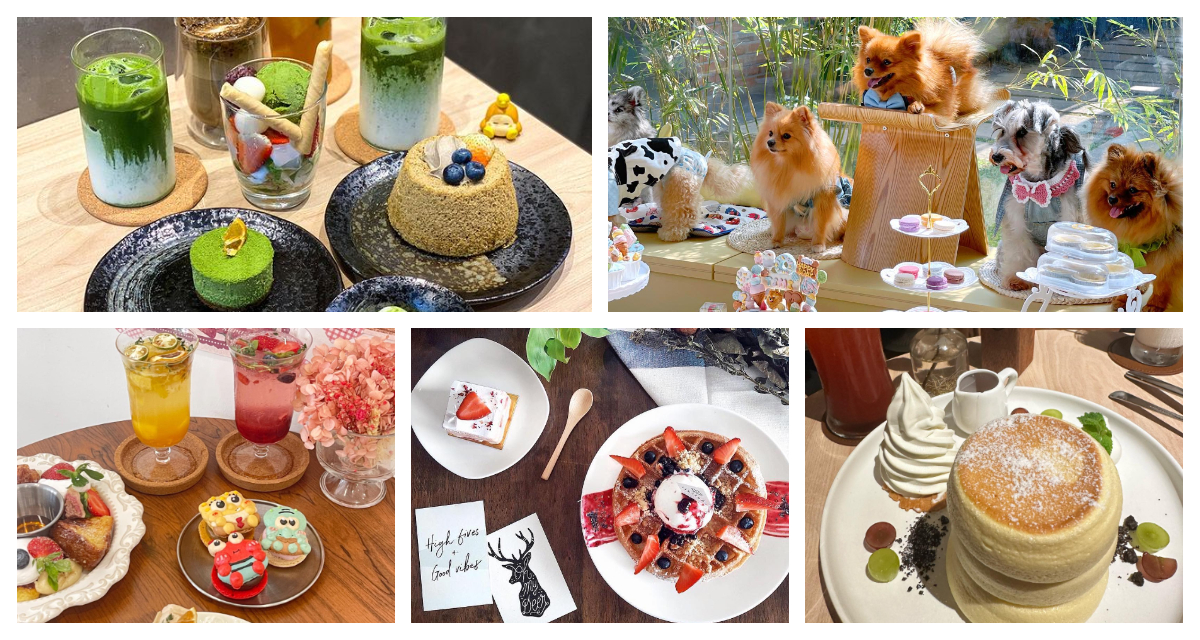 Discover a delightful new dessert haven in Petaling Jaya, where cafes have become the heart of the city's social scene. The latest gem to grace this culinary landscape is quickly becoming a popular choice among locals and visitors alike. At this cozy retreat, you can enjoy a captivating array of tea and coffee drinks, perfect for both tea time indulgence and post-meal light sipping. The flavors are rich, the taste is unparalleled, and each treat is uniquely crafted to elevate your dining experience.
From the first bite, the desserts transport you to a world of happiness, instantly cheering you up and enhancing your good mood. Whether you're meeting friends, partners, family, or even having a fun outing with the kids, these popular dessert cafes surely create unforgettable moments. Don't miss out on the must-try weekend destination that promises good food, great company, and a whole lot of fun.
Chabashira Tea Roastery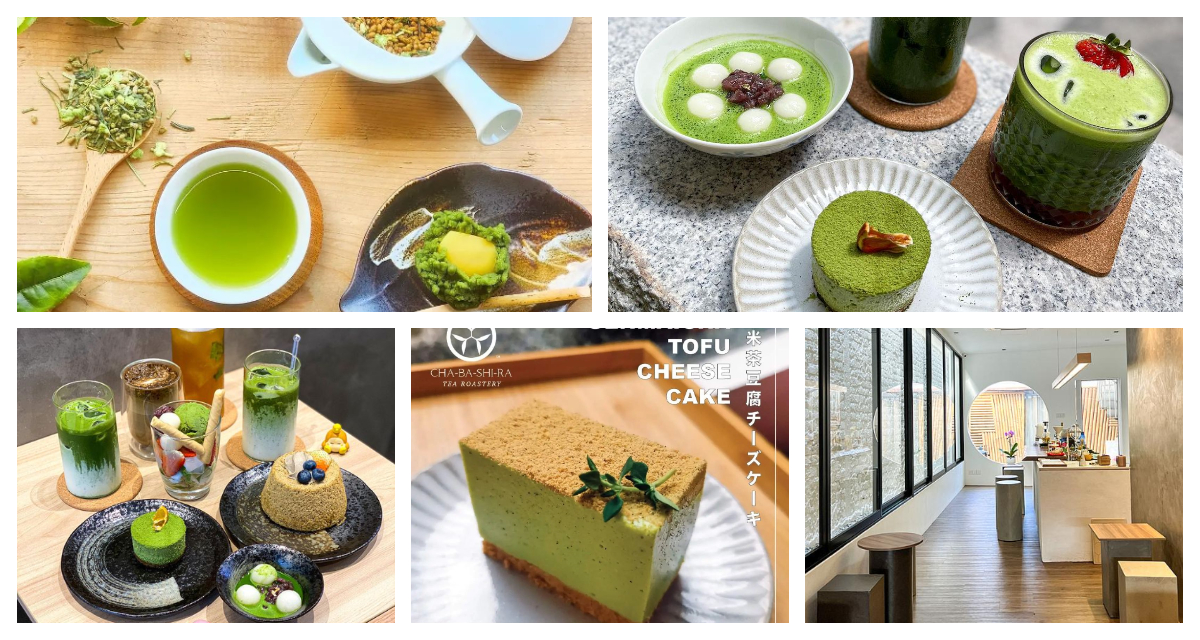 If your heart beats for matcha, a pilgrimage to Chabashira Tea Roastery is an absolute necessity. Imbibing a cup of matcha within these walls is akin to a journey to a traditional tea house in Kyoto. Enveloped by a bamboo-veiled zen garden, this newfound Japanese tea haven in Taman Paramount emerges as a clandestine sanctuary for the senses. Here, a symphony of exquisite beverages and desserts, all graced by tea sourced from Kyoto's serene farms, awaits.
Chabashira Tea Roastery unfurls as a dual marvel, seamlessly fusing a café and a showroom, while showcasing one of Klang Valley's most expansive arrays of Japanese teas. This encompassing selection traverses the realm from award-winning ceremonial matcha to sencha, ingeniously transformed into beverages that dance uniquely on the palate, alongside confections, ice creams, and more.
Why you must try Chabashira Tea Roastery:
Specialize in Japanese tea, you can even experience Japanese tea ceremonies.
Serve premium grade matcha and tea desserts.
Amazing environment.
Reasons you might contemplate bypassing the Chabashira Tea Roastery:
Intimate spaces offering an exclusive experience.
Petite portions crafted with meticulous attention to detail.
Details of Chabashira Tea Roastery:
| | |
| --- | --- |
| Specialty: | Japanese matcha beverages and desserts |
| Address: | 129, Jalan 20/7, Taman Paramount, 46300 Petaling Jaya, Selangor |
| Business hours: | Sunday – Thursday, 1pm – 10pm; Friday & Saturday, 1 – 11pm; Closed on every Mondays |
| Website/ social media: | Instagram |
Mimi Daifuku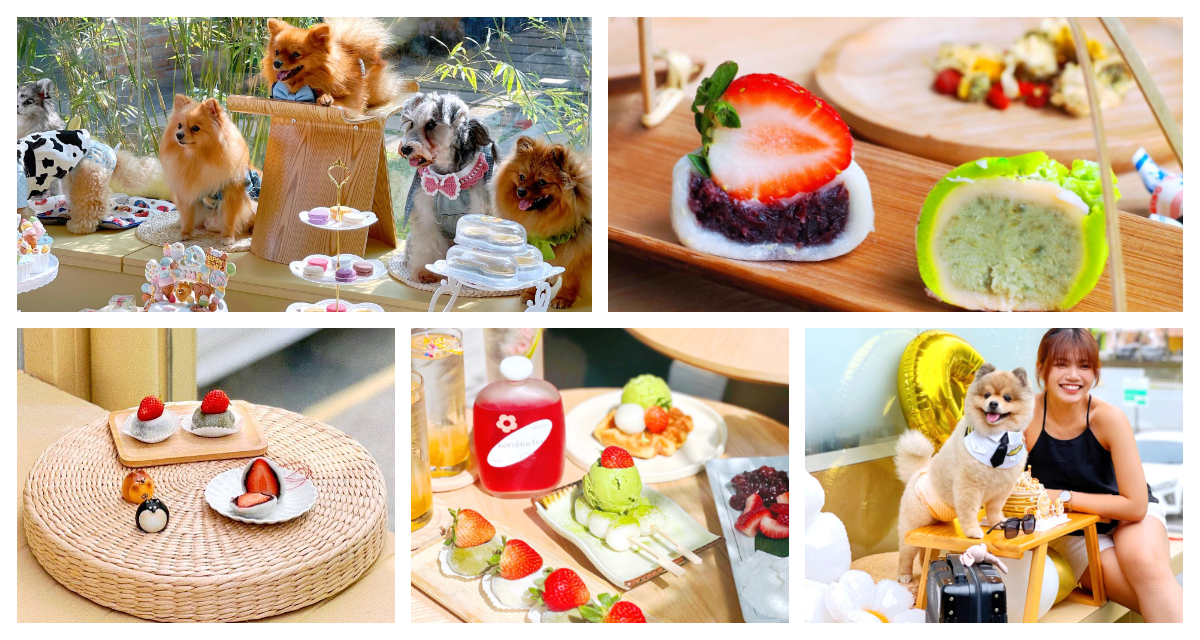 Mimi Daifuku has honed an exquisite craft, specializing in the art of Ichigo Daifuku. A recent evolution has unfurled, blossoming into a full-fledged café. This newfound venture now showcases an expanded repertoire, spanning an array of delectable desserts, tantalizing beverages, and even savory courses that delight the palate. Amidst these culinary offerings, one constant remains: the daifuku, meticulously crafted afresh each day. Their signature assortment boasts a quartet of distinct flavors, comprising the Original Japanese Daifuku, the enchanting Matcha Japanese Daifuku, the captivating Charcoal Sesame Japanese Daifuku, and the alluring Purple Sweet Potato Japanese Daifuku.
Nestled within is a luxurious import – the Japan Azuki filling, a luscious Red Bean Paste, perfectly harmonizing with strawberries sourced from the verdant landscapes of Korea or the sun-kissed fields of Australia. The culinary journey extends beyond, with fresh additions to the menu, including the ethereal Japanese Tofu Cheesecake, delectable waffles, and a selection of heartwarming hot meals.
Why you must try Mimi Daifuku:
It is a pet friendly cafe, serving "petfuku"specially crafted for your beloved companions.
They are available for pet private events.
Spacious parking nearby.
They do serve japanese style hot meals.
Reasons you might contemplate bypassing the Mimi Daifuku:
Note that the size of the strawberries could potentially vary from the visual portrayal in photographs.
The availability of dine-in space is somewhat constrained, ensuring a more intimate and exclusive setting.
Details of Mimi Daifuku:
| | |
| --- | --- |
| Specialty: | Japanese Daifuku |
| Address: | No. 3, Lakeside Wing, Sunsuria Avenue, Persiaran Mahogani, Kota Damansara, PJU 5, 47810 Petaling Jaya. |
| Business hours: | Wednesday – Monday, 11am – 6pm; Closed every Tuesdays |
| Website/ social media: | Instagram |
Souffle Dessert Cafe – Damansara Uptown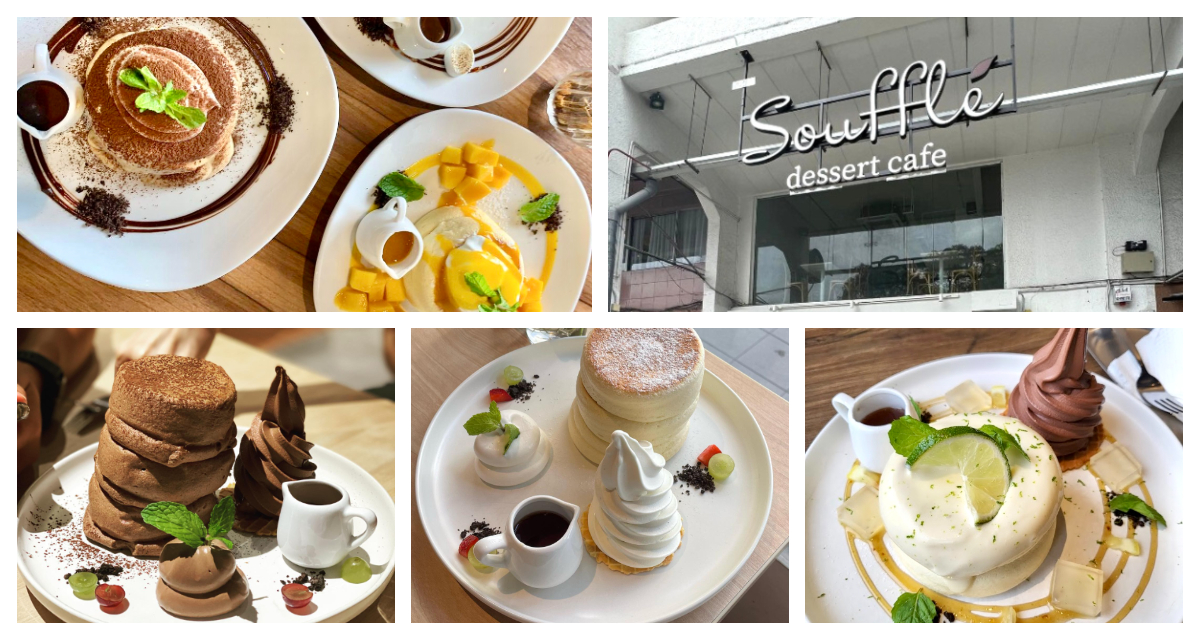 If you're in search of delightful and fluffy Soufflé Pancakes, a visit to Soufflé Dessert Cafe in Damansara Uptown is an absolute must. They specialize in serving these pancakes that are light as air, accompanied by a diverse array of sauces and sweet toppings. The options range from classic chocolate and tiramisu to fruity mango, matcha, and more.
In addition to their signature Soufflé Pancakes, the cafe offers a variety of other delectable treats such as Belgian waffles, soft serve ice cream, parfaits, and affogato. If your craving leans towards creamy and decadent desserts, look no further than Soufflé Dessert Cafe.
Why you must try Souffle Dessert Cafe – Damansara Uptown:
Good variety of Souffle and other desserts.
They offer a seasonal menu.
Reasons you might contemplate bypassing the Souffle Dessert Cafe – Damansara Uptown:
Details of Souffle Dessert Cafe – Damansara Uptown:
| | |
| --- | --- |
| Specialty: | French desserts, Souffle |
| Address: | 42, Jalan SS 21/58, Damansara Utama, 47400 Petaling Jaya. |
| Business hours: | Sunday – Thursday, 2pm – 11pm; Friday & Saturday, 2pm – 12 am; Closed every Wednesdays |
| Website/ social media: | Facebook |
Fluffed Cafe & Dessert Bar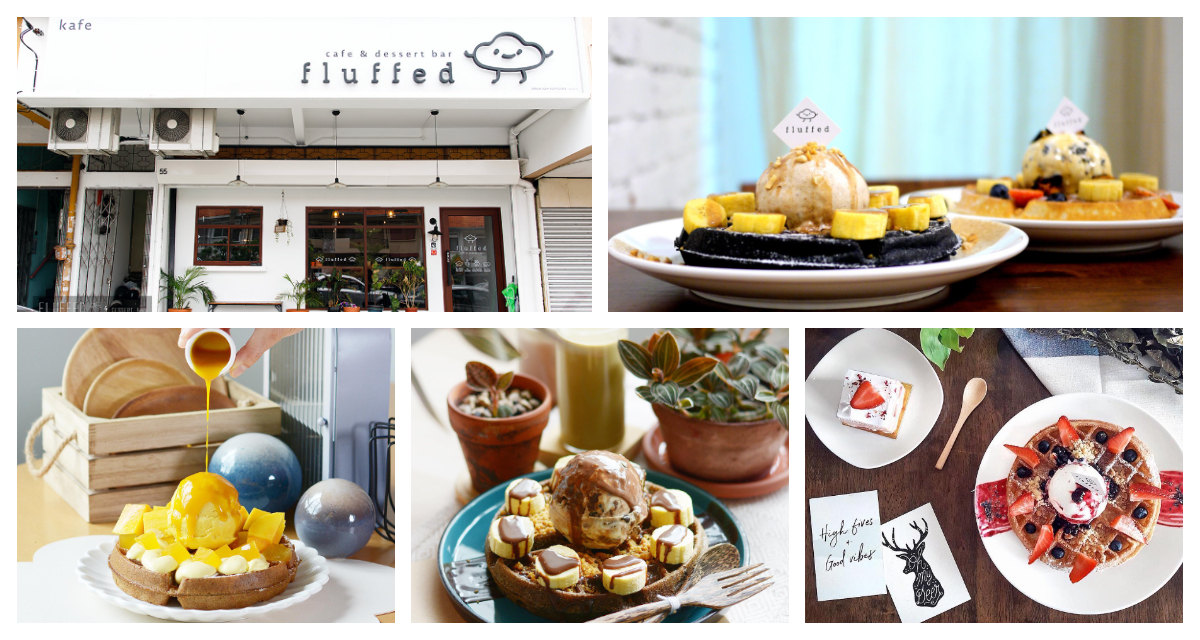 Fluffed Cafe & Dessert Bar, nestled in Taman Paramount PJ, stands as a renowned haven of culinary delight. Its iconic emblem, a charming cloud adorned with endearing hands and legs, etches itself indelibly into memory. This establishment boasts wide recognition, particularly for its delectable offerings including waffles, ice cream, short cake, cloud cake, and coffee. The synergy of their crispy yet ethereal waffles with uniquely astonishing ice cream flavors is a masterpiece. Transporting patrons to the realms of cherished fairy tales and beloved cartoon characters, their dessert menu christens each waffle with a nostalgic name. Amidst the cafe's inviting ambiance, one can relish in the harmonious companionship of meticulously paired waffles and ice cream, a symphony that conjures cozy nostalgia and warmth.
Why you must try Fluffed Cafe & Dessert Bar:
Double enjoyment with the waffle pairing with homemade ice cream.
Good variety of waffles, cakes, and ice creams.
Variety of coffee options available for coffee enthusiasts.
Friendly staff and welcoming atmosphere enhance the overall experience.
Reasons you might contemplate bypassing the Fluffed Cafe & Dessert Bar:
Limited seating space, especially for larger groups.
Parking challenges in the vicinity, making it inconvenient for some visitors.
Details of Fluffed Cafe & Dessert Bar:
| | |
| --- | --- |
| Specialty: | Waffles, ice cream, home-made cakes |
| Address: | 55, Jalan 20/7, Taman Paramount, 46300 Petaling Jaya |
| Business hours: | Tuesday – Sunday, 12.30pm – 10.30pm; Closed every Mondays |
| Website/social media: | Instagram |
Bakaron by Alicia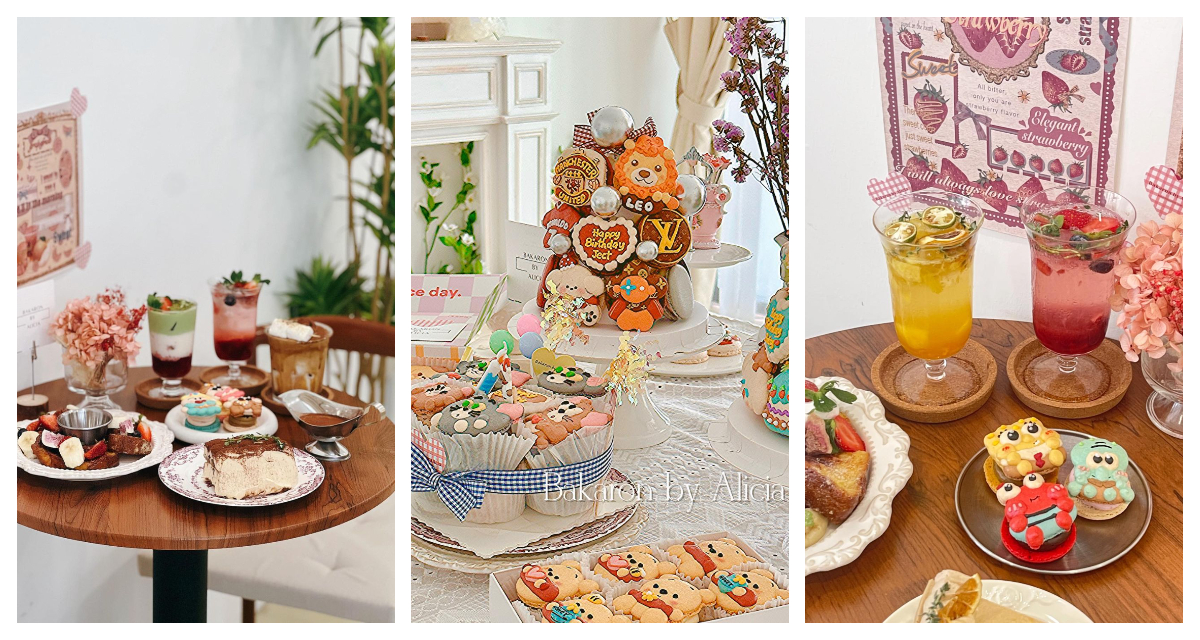 Bakaron by Alicia specializes in meticulously crafting customized macarons, marrying exquisite designs with unforgettable flavors. Each macaron is meticulously handmade, with designs carefully hand-drawn, showcasing an unwavering dedication to precision and artistry. The precise harmony of their thoughtfully measured recipe ensures the macarons attain the perfect level of sweetness. And indeed, they have opened a cafe, providing a cozy Muji-inspired haven where you can savor these delectable macarons.
Expanding their culinary repertoire, Bakaron by Alicia now offers an array of delights
including waffles, croissants, cakes, and more. This cafe has evolved into a haven of culinary wonders. It stands as the quintessential setting for creating cherished memories on special occasions or for indulging in an enchanting evening. With every visit, Bakaron by Alicia promises to amaze you with macarons that are not only adorable but also irresistibly delicious.
Why you must try Bakaron by Alicia:
They are specialized in customized macarons and cake designs.
Produce beautiful yet delicious macaroons.
Very instagrammable.
Reasons you might contemplate bypassing the Bakaron by Alicia:
Details of Bakaron by Alicia:
| | |
| --- | --- |
| Specialty: | Macaroons |
| Address: | Unit 1-2 Menara Infiniti, 28, Jln SS6/3, 47301 Petaling Jaya |
| Business hours: | Thursday – Tuesday, 12pm – 6pm; Wednesday, 12pm – 4,30pm |
| Website/social media: | website |
Here you go, the dessert cafes around Petaling Jaya that offer the perfect escape to savor some "me time" or hang out with friends, whether it's with your bff, partner, family, or even your children. These cafes cater to various tastes, ensuring everyone finds a treat that suits their preferences. From mouth watering pastries to elegantly presented cakes, the array of options promises an enjoyable experience. If you're a couple seeking a cozy ambiance, these cafes provide intimate settings where you can share sweet moments and indulge in delectable creations.
As you explore, keep in mind that while some cafes might be a bit pricey, it's always wise to check the prices before placing an order, ensuring you can relish the flavors without any surprises. And don't forget to capture the memories – these cafes often boast Instagrammable corners, ideal for snapping photos in your favorite OOTD while also savoring the visual feast of well-plated desserts.
For those who appreciate a more balanced taste, the dessert cafes in Petaling Jaya have you covered. The menus offer a variety of options that strike the right balance between flavors, ensuring that your treat isn't too greasy or overly sweet. You can enjoy a leisurely afternoon with a cup of aromatic tea or coffee, or quench your thirst with refreshing fizzy drinks. Families with children can rejoice in these welcoming spaces where kids can revel in their favorite sweets, while parents enjoy a moment of relaxation.
Some cafes even welcome pets, making it a family-friendly destination for those with furry companions. As you bask in the joy of good company and scrumptious desserts, remember to capture the moments – whether through heartwarming conversations, candid laughter, or snapshots of beautifully crafted confections.