Top 5 Glamping Spots in Malaysia: Unveiling Nature's Luxurious Hideaways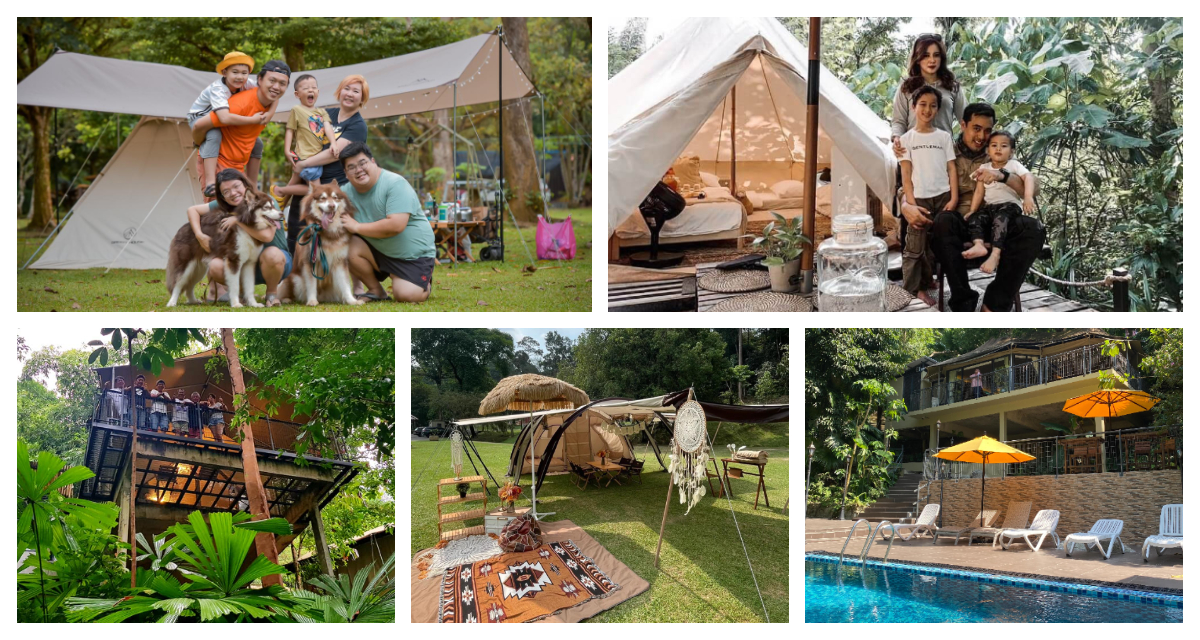 Malaysia is home to several famous and popular glamping spots that offer a beautiful escape from the city and immerse you in stunning natural surroundings. These locations provide a perfect destination for a short vacation, whether you're traveling with your partner, friends, family or company team building. With the allure of fresh air, comfortable accommodations, and breathtaking scenery, glamping in Malaysia allows you to relax and chillax in style.
One such glamping spot is nestled within the lush rainforests, offering a truly Instagrammable experience. Imagine waking up to the scenic views of towering trees and the sounds of nature while enjoying a cup of coffee on your private terrace. These eco-friendly accommodations provide a comfortable and cozy stay, allowing you to connect with nature without compromising on modern comforts. At night, you can gaze at the starry sky, creating lasting memories as you share stories and laughter with your loved ones. During the day, engage in a variety of outdoor activities like jungle trekking, cycling, swimming, or hiking, surrounded by vibrant greens and flourishing plants. The possibilities for fun and sightseeing are endless, ensuring a memorable glamping getaway in Malaysia.
Boulder Valley Glamping Penang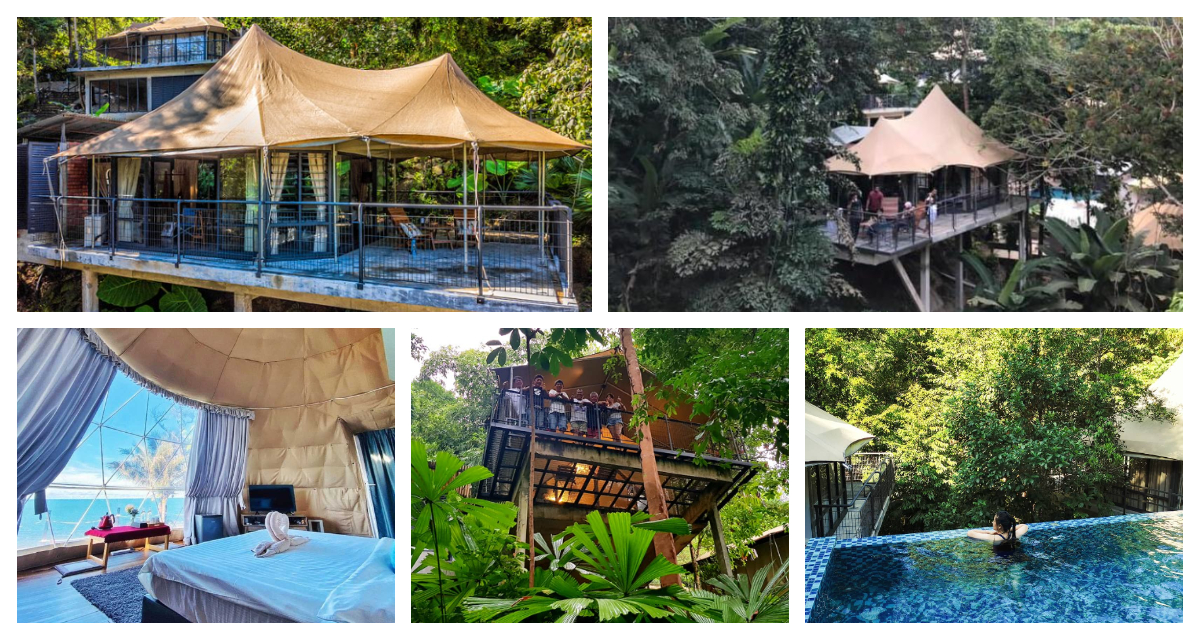 Nestled amidst the breathtaking Boulder Valley, Boulder Valley Glamping offers an exceptional and enchanting glamping experience surrounded by unique boulders and lush tropical greens. Here, they have deliberately embraced a minimalist approach, eschewing excessive opulence to create a glamping haven that is both authentic and down-to-earth. Step into their thoughtfully designed glamping tents, and you'll instantly be transported to a world far removed from the ordinary DIY tent in a bag. With the promise of utmost comfort, their tents boast plush beds and ensuite bathroom facilities, ensuring a luxuriously cozy stay.
Boulder Valley Glamping presents a selection of distinctive tent types, accommodating 2 to 4 people, with prices starting from an enticing RM580.00. This exquisite retreat warmly welcomes those seeking respite from the chaos of urban life, inviting them to embark on a short yet rejuvenating excursion. Moreover, for those with a passion for culinary delights, this glamping sanctuary promises to satiate your appetite with its unique and tantalizing food experiences. Even if you're not staying for a glamping adventure, Boulder Valley graciously extends its invitation to anyone longing to immerse themselves in the captivating wildlife ambiance that permeates the grounds.
Pros of Boulder Valley Glamping Penang:
Convenient transport link. (25 km from Penang International Airport)
Well conserved nature.
Able to enjoy highland durians during durian session.
Cons of Boulder Valley Glamping Penang:
May be disturbed by mosquitoes.
Congested traffic during school holidays.
Details of Boulder Valley Glamping Penang:
Price:
RM580.00 onwards
Location:
8, Jalan Teluk Bahang, 11500 Teluk Bahang, Pulau Pinang
Contact:
019 – 977 8995
Website/Social Media:

Website

;

Instagram
La Hilir Luxe Camp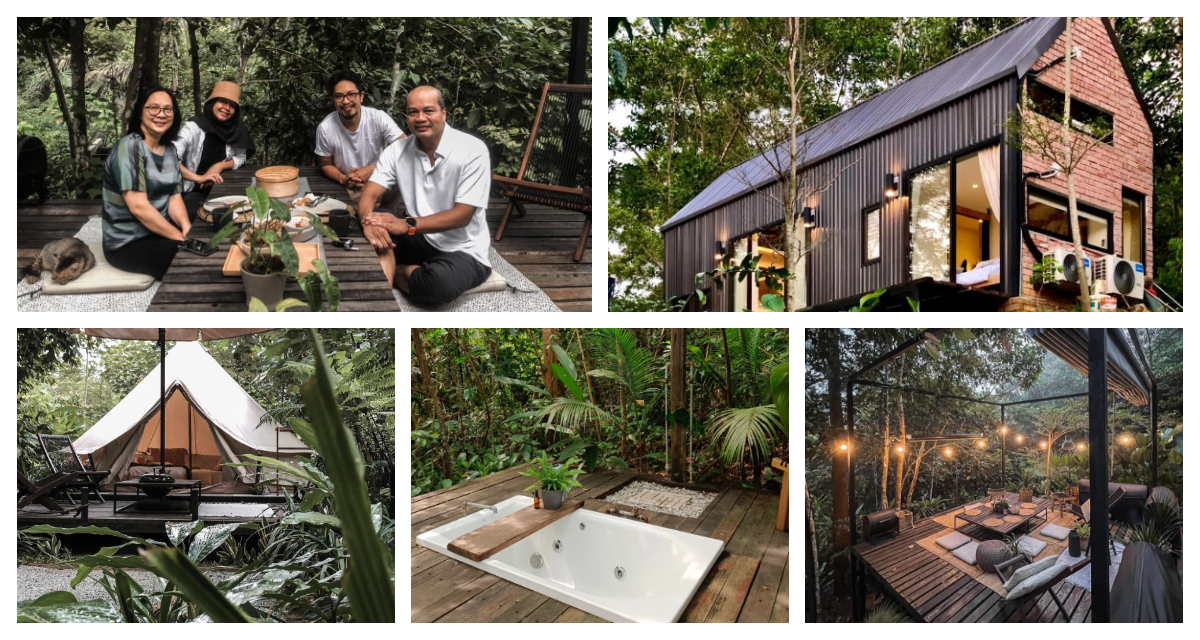 Nestled in a serene and secluded location, La Hilir Luxe Camp beckons you to unwind and reconnect with nature while basking in unparalleled comfort. This exclusive glamping site ensures that your relaxation remains uncompromised, offering a haven where every detail has been meticulously considered. Even the tents themselves are equipped with air-conditioning units, guaranteeing a blissful and sweat-free slumber throughout the night.
At La Hilir Luxe Camp, exclusivity reigns supreme, as they only boast two luxurious tents that can accommodate a generous 6 to 8 guests. With their policy of hosting only one set of guests at a time, you can revel in the assurance of complete privacy without sharing the glamping site with strangers. Nestled within the compound of the owner's home, it is essential to treat the owner's space with the utmost respect. Inside the tastefully adorned tents, a boho chic aesthetic unfolds, showcasing beautiful decorations, cozy rugs, plump pillows, and exquisite wooden furnishings.
Immersing yourself in nature takes on an entirely new meaning at La Hilir Luxe Camp, as they offer an outdoor private bathtub where you can luxuriate while surrounded by the wonders of the natural world. The price of this extraordinary experience starts from a sumptuous RM1588.00 per night, and your package includes delectable halal meals, ensuring a gastronomic journey that caters to diverse tastes and preferences.
Pros of La Hilir Luxe Camp:
Complete privacy.
Halal home cooked food.
Outdoor cinema, private camp fire.
Friendly owner.
Cons of La Hilir Luxe Camp:
Relatively more expensive.
No exciting activities around.
Details of La Hilir Luxe Camp:
| | |
| --- | --- |
| Price: | RM1588.00 onwards |
| Location: | La Hilir Luxe Camp, Kampung Kuala Dioh, 72000 Kuala Pilah, Negeri Sembilan |
| Contact: | 012 – 379 0713 |
| Website/Social Media: | Instagram |
Gibbon Retreat Bentong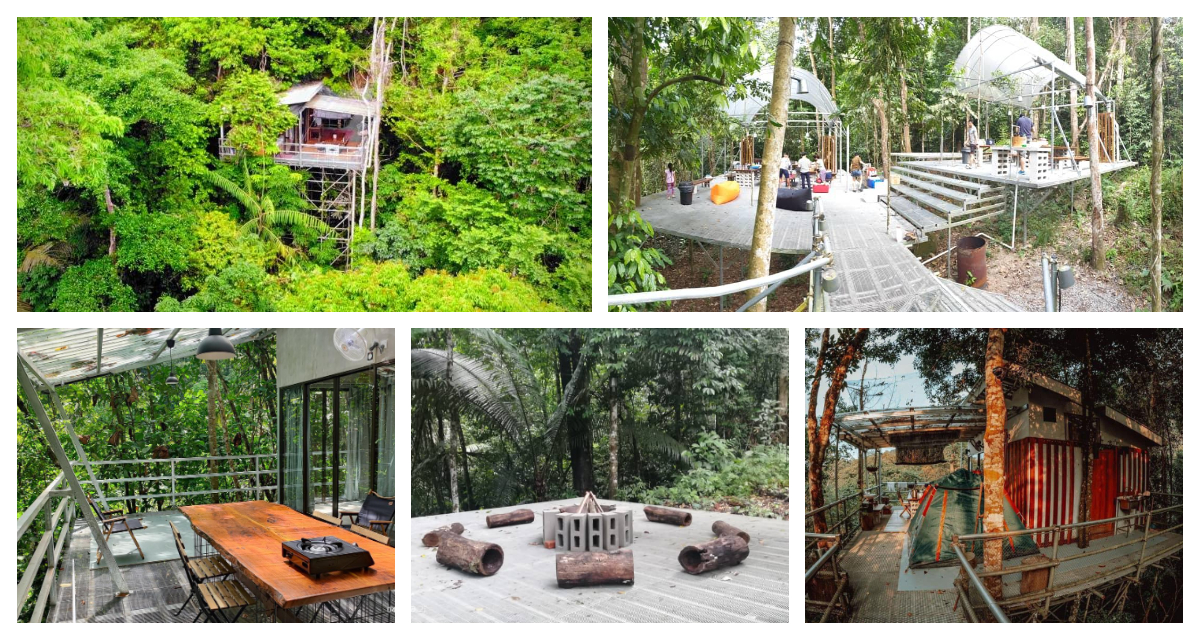 Surrounded by Malaysia's lush tropical rainforest, Gibbon Retreat is an idyllic oasis of tranquility and seclusion. This remarkable haven offers an unparalleled and unforgettable encounter with nature, all just a convenient one-hour drive from the bustling city of Kuala Lumpur. Immerse yourself in a world abundant with wildlife, from the melodic calls of malkohas to the playful gibbons for which the retreat is named. At Gibbon Retreat, they are dedicated to curating authentic experiences that awaken the senses while fostering a profound reverence for the surrounding environment.
Enveloped by the verdant canopy, their leaf-shrouded cabins and platforms blend harmoniously with the natural landscape, employing organic materials and resources to craft simple yet stunning facilities. With seven different types of chalets and camping sites to choose from, starting from a reasonable RM200.00 per night, you have the freedom to tailor your experience to your desires. Spend your days embracing the wonders of the rainforest, whether it's hiking through verdant trails, basking in the serenity of the tree decking, or luxuriating in the refreshing rock pool. In this haven of few distractions, you have the perfect opportunity to reconnect with the pure and unadulterated pleasures of nature.
Pros of Gibbon Retreat Bentong:
A glamping site in the midst of forest reservation.
Relatively cheaper.
Cons of Gibbon Retreat Bentong:
No food provided.
Kitchenware provided is non halal.
Details of Gibbon Retreat Bentong:
Price:
RM200.00 onwards
Location:
Lot 17799 Sungai Semantut, 27600 Bentong, Pahang
Contact:
011 – 3602 3507
Website/Social Media:

Website

;

Instagram
Little Habitat Camp Bentong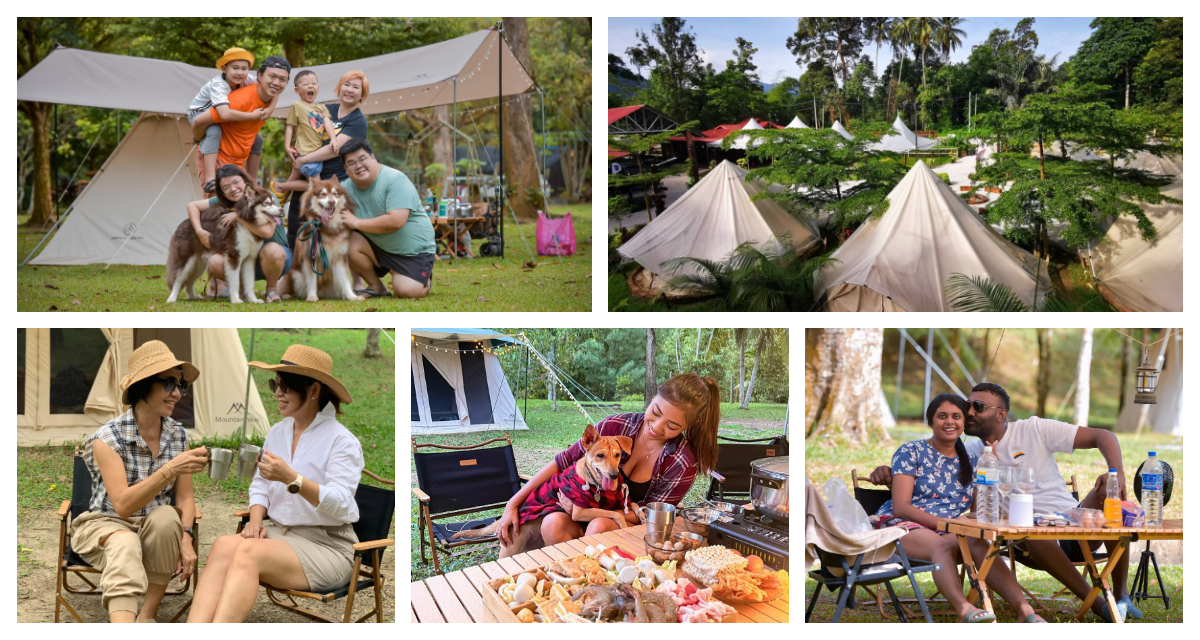 Little Habitat Camp beckons as a delightful pet-friendly sanctuary where you can revel in nature's embrace alongside your furry companions. Immerse yourself in the beauty of the surroundings while your beloved pets frolic freely by your side. To enhance your experience, an inviting outdoor spring water swimming pool awaits, inviting you and your pets to indulge in a refreshing dip together, creating cherished memories that will last a lifetime.
At Little Habitat Camp, the owners go above and beyond to ensure a wealth of leisure activities for all. From lively games of ping pong and badminton to invigorating cycling adventures and creative coloring sessions, there is no shortage of amusement. This enchanting haven proves ideal for families with children and pets, as it offers the perfect camping getaway to cater to their needs and desires. Furthermore, the campsite regularly organizes the Kid Fun Club, a joyous initiative that allows children to revel in the wonders of nature while having a blast.
With five different types of tents to choose from, starting at an affordable RM200.00, Little Habitat Camp provides a range of options to suit every preference. Please note that food is not included in the price, and additional charges apply for pets.
Pros of Little Habitat Camp Bentong:
Pets are friendly.
A lot of fun activities for children.
Friendly price.
Cons of Little Habitat Camp Bentong:
Not suitable for those who are sensitive to pets.
Only shared toilets and bathrooms are available.
Details of Little Habitat Camp Bentong:
| | |
| --- | --- |
| Price: | RM200.00 onwards |
| Location: | Karak Expy, Lama, 28700 Bentong, Pahang |
| Contact: | 012 – 305 2275 |
| Website/Social Media: | Instagram |
LuBar Camp Rawang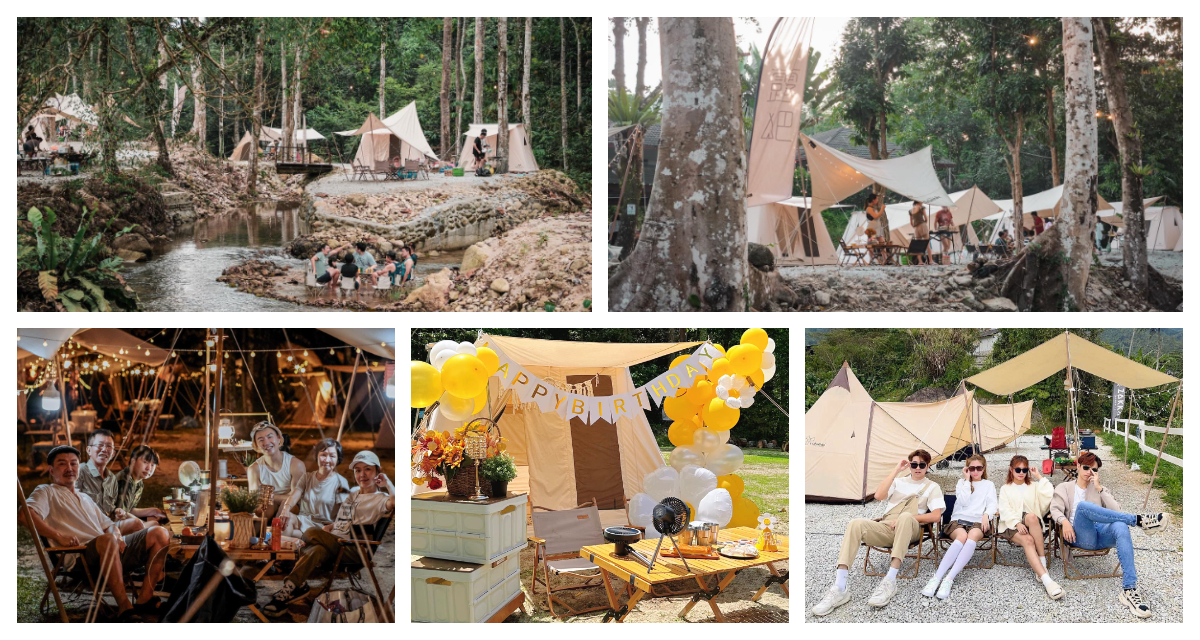 LuBar Camp stands as a beacon of comprehensive camping services, offering a delightful array of high-value tent alternatives. From the captivating allure of classic Indian tents to the elegant charm of Japanese-style Ogawa tents, each structure exudes its own unique charm, providing a photogenic backdrop for unforgettable camping moments. Every tent package is thoughtfully curated, providing guests with air mattresses, cozy blankets, air pillows, essential cooking utensils and cutlery, a convenient kitchen table, comfortable chairs, and even a charming table lamp.
To ensure maximum convenience, all tents are expertly set up prior to your arrival, allowing guests to simply step into a world of outdoor bliss. Whether you choose to bring your own food and drinks or indulge in a delectable BBQ, LuBar Camp eliminates any logistical concerns, enabling you to focus solely on enjoying the experience. While the specific location and time of your campsite may be subject to prediction upon signing up, rest assured that each selected spot will be enveloped by the beauty of nature. Shared toilet and shower facilities are available for guests to refresh and rejuvenate during their stay, fostering a sense of camaraderie among fellow campers.
LuBar Camp encapsulates the essence of an idyllic camping experience, enveloping you in comfort, convenience, and the splendor of the natural world.
Pros of LuBar Camp Rawang:
Many different types of tents to explore.
Located in a reserved forest.
Cons of LuBar Camp Rawang:
Shared toilets and bathrooms.
Campsite location is not choosable.
Details of LuBar Camp Rawang:
| | |
| --- | --- |
| Price: | RM190.00 onwards |
| Location: | Lagong Forest Reserve, KM23, Jalan Rawang, Compartment 3, 48000 Rawang Selangor |
| Contact: | 013 – 886 9122 |
| Website/Social Media: | Instagram |
When planning your glamping adventure, there are several key considerations to ensure a memorable and seamless experience. Begin by booking your glamping site through a reliable website or trusted social media channels. You can also explore travel sites like Agoda for a wide selection of options. Before your departure, it's essential to check the weather forecast to ensure ideal conditions for your outdoor escapade. Consider the desired ambience, whether you prefer a location nestled near majestic mountains or enveloped by a serene forest.
Mosquitoes can be a concern, especially if you're traveling with kids or pets. Look for glamping sites that provide mosquito nets or take necessary precautions to ensure a bite-free stay. Additionally, check if the camping grounds are covered in dirt or grass to determine the appropriate footwear and overall comfort level. Assess the available facilities, such as clean and well-maintained bathrooms, a functional kitchen area, ample car parking space, and the convenience of hot showers.
To make the most of your glamping experience, inquire about the activities offered at the site. Whether it's swimming in a nearby lake, hiking picturesque trails, cycling through scenic landscapes, or even fishing in a tranquil pond, ensure the activities align with your interests and preferences. Some glamping sites may also allow for personal barbecues or the option to bring your own tents if desired.
Pricing is an important factor to consider, so compare rates and packages to find one that suits your budget. Additionally, if you're seeking a breathtaking view of the night sky, sunrise, or sunset, make sure the chosen glamping site offers unobstructed vistas for stargazing or capturing stunning natural phenomena. With careful planning and consideration of these factors, you'll be well-prepared for a remarkable glamping experience.